WHISKEY WEDNESDAY: Carlo Traversi
2 June 2010
3,870 views
3 Comments
posted by wig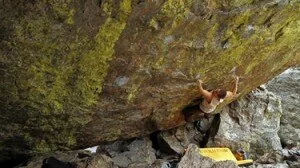 This is Carlo, he's pretty cool. I'm not going to type a lot on this at all because… well… it's Wednesday and I'm only motivated to do a few things on Wednesdays the primary one being drinking Whiskey.
Carlo did Jade the other day. Remember that thing? It's in RMNP and it's hard apparently but Carlo wants to downgrade it! I personally don't really care about this downgrading stuff, and don't really care about much as many of you may know, but it's a bold thing to stare in the faces of 5 other strong climbers (Nalle Hukkataival,Paul Robinson, Daniel Woods, Ty Landman, and Phil Schaal) and say NAY NAY this shit is simple, (well okay he didn't actually say that, but he did register the problem as a V14 on his scorecard after all those guys said V15, which seems like the same thing to me right? at least this is what I understand to be true about the situation) REGARDLESS — Carlo, cheers for doin what you do and not givin' a fuck. Boom.
Check the interview here.

Share on Facebook