Vidz. BOOM.
1 June 2010
4,666 views
8 Comments
posted by wig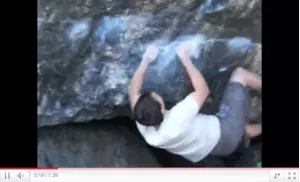 Holy shit! Somehow our website is still here! I thought for sure our domain would have expired and been bought by some site poaching dickwad a long time ago, but luckily for you they haven't.
For that last six months, we've been drunk. That's why we haven't posted. Normally though, drunkenness would only encourage our posting but this was a different kind of drunk. It was the kind of drunk where everyone got responsible. Limit and Bronco were working all the time, and I moved off their couch and got a big boy job, and now everything is just sad. We turned into lamer people than we were before which believe me, is a low you don't ever want to stoop to… it's terrible.
Enough of that shit. Here's the post. HOPEFULLY I'll remember to do this from time to time so pimpin and crimpin can exist in all it's glory once again.
This is a fellow named Joe apparently. I don't know who it is, but he wants to send. I want him to send too. Joe if you're out there, I'm a big fan of yours.

Share on Facebook