CCGOTW: Anna Duong
15 January 2009
2,536 views
One Comment
posted by wig
Name: Anna: Duong (du-wong)
Age: 26
Hometown: Birmingham, AL
Location: New York City
Of all your travels what's the wildest story you have from a climbing trip?
Are you just assuming that I have wild trips? Because most of them have been pretty mild. Well, I guess Croatia was nuts, but in a scary sort of way It was mostly so because it was my first time trying out deep water soloing, and it scared the shit out of me. I remember the very first day we got to this awesome overhang right above the water, and I was the most eager of all to just jump out there and climb. With absolutely zero perspective of how scary a 25 foot free fall is, how rough the waters actually were, and how shitty of a swimmer I am, I climbed as high as I could get. For the rest of the trip, I developed a phobia for jumping into the sea from even ten feet. While the other boys were having blast because they started off slowly and gradually became used to it, I was constantly terrified. It was still awesome, but those videos of Sharma and Loskot are bullshit.
How's that?
They make it look so comfortable and easy you know, they're all smiling as they're torpedoing into the water. When you look back at pics of me as I'm falling, my face is filled with complete terror.

What's your favorite climbing style?
Bouldering, hands down. I used to obsess over sandstone overhangs, but now I've developed a real fondness for slab climbing especially on granite.
What are you doing in New York?
School. Dental school.
Dental School? You're into teeth?
Yep. One of my friends made this funny observation about me. I have a fetish for block-shaped objects. All they could name were boulders and teeth, but I guess that about the two biggest things going on in my life right now, so perhaps they're onto something.
What other blocky things could you possibly be into?
Um, dogs with big blocky heads, square shaped containers and I'm a sucker for fancy square-shaped packaging. That's all I can think of for now.
Would you rather eat hot dogs for the rest of your life or drink milkshakes?
Oh, too easy! Milkshakes, of course! As long as they aren't chocolate.
You don't like chocolate milkshakes?
No, I'm not a big chocolate fan in general. I know that makes me sound like a space alien, but I really don't prefer it.

What would you do first if you won the lottery?
Plan out an entire year of traveling, definitely, and put my parents into early retirement. Isn't that what you'd do?
I'd buy a whiskey distillery.
What are you going to do after dental school?
Probably work for a couple of years until I'm good enough to open my own practice. Once that happens, I hope to be able to work just enough to pay my bills and play the rest of the time. I feel pretty lucky to possess a genuine desire to be a dentist because in the end, they seem to have some pretty sweet and forgiving lifestyles. I'd like to be able to climb for the rest of my life, and I think I'll be able to if I play my cards with this whole teeth vs. boulders thing.
Where do you go climb locally the most around New York?
I guess the Gunks, but it's been a while since I've done that. After school started, I've been pretty restricted to climbing on plastic. Which is fine for now, it just gets old really fast. NYC needs more variety. Plus I'm a much better climber outdoors than in a gym.

Except for DWS
You fucker. But yes, you're right. Except for DWS. I just need to try it a few more times
If you could pick the brain of any "pro climber" over a nice stiff drink who would you want to talk to?
No one. I'm the worst at keeping up with the names of pro climbers. Oh wait. Dave Graham, but I wouldn't even care to pick his brain, just steal his powers. He's one climber I actually love to watch. He's so technical and precise, I find it very mesmerizing. But picking brains, I guess doesn't appeal to me because I hate learning that people I look up to in one way or another actually have really shitty personalities. Oh but I will say I'd like to pick Ivan Greene's brain, but for other reasons. Perhaps I'd just throw a roofie in his drink then throw him off a bridge. I would probably not care to pick Chris Sharma's brain except to tell him that he's got some pretty bad gum recession and should probably lay off on the unfiltered cigarettes. I've never seen a young man age so fast!
What's the best climbing shoe out there?
La Sportiva's Katanas. There is no better shoe out there for my feet. If there ever comes a day when they discontinue those shoes, I will have to buy up every pair I can get my hands on.

What's the best and worst thing about being a female rockstar?
Getting to show up little punk-ass boys that like to assume pretty girls don't know how to climb. Worst thing for me is having to accept the fact that I have to try a lot hard to send things that guys can breeze through because they don't have extra weight in their ass and shorter arms.
Let's do some word association.
5.14
Shitty
Oh wait. That's not what I meant. Next.
Coffee
Starbucks #234000023. That's the one I go to every day.
El Cap.
Old news

Slopers
Horsepens40. My favorite place in the world!
Michael Jackson
Pedo
8a.nu
What the hell is that?
Who's the hottest female climber out there right now?
I really don't know. There's one lady I saw in an article about the Squamish Roctrip and she had a weird, long last name I can't remember. She looked like a beast, but a pretty one. Her last name has a hyphen in it. Dark hair, very tan.
Was it Vera Schulte-Pelkum?
That does sound familiar. She is actually very pretty, isn't she?
She's real pretty.
Okay then. I pick her.
Do you think dating a climber is necessary?
No, but I would never date a non climber.
…
You always meet people with non-climbing spouses or whatever, and they say things like, "Its nice having climbing as my own hobby to get away." That just means that your girlfriend or boyfriend sucks too much to join you. I couldn't imagine not dating someone who climbs.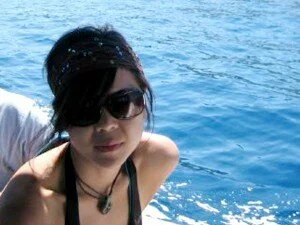 Share on Facebook