posted by limit
Mark Twight has his bible and manifesto. It's called The Freedom of the Hills which is about as long as the KJV and about as hard to understand. It's time that sport climbers have their own manifesto-a single compendium where a gumby can pack his arsenal with the little tricks used by experienced sport climbers without looking like a douche. After all, that's what P&C is all about–not looking like a douche. In the coming weeks, we'll cover such things as stick clipping, rodeo clipping, granny clipping, sport aid, leadership techniques, batmanning and boinking and every other trick in the book to make you look like you climb 5.14.
Granny Clipping/Chuffing
As illustrated in figure 1, granny clipping (aka, chuffing on a draw), involves grabbing the dogbone (for dear life if you're me), screaming at your belayer for slack and desperatly throwing the rope into the biner.
Use: When you're pumped, can't clip like a man, or are otherwise scared shittless.
Pros: Granny clipping can give you an a mini toprope for working hard sections. It can also keep you from decking or taking falls in dangerous sections when you can't clip from a free stance.
Cons: You look like a weak idiot.
Limit's warning: Never fall while grabbing a draw. It makes you look like a super douche. Trust me, everybody at the crag saw it and they all hate you. A 6-12 month sabbatical from the climbing scene in question is suggested.
Stay tuned. Next week, FOTB continues!
1 Comment to The Freedom of The Bolts
That's funny … I'm writing that book right now!

AB on November 11th, 2008
Leave a comment
VISIT OUR SPONSOR!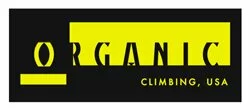 Archives
Our Friends
24 Hours of Horseshoe Hell
Big Andy Photo
Blog de lucas
Eldorado Outdoor Products
Ethan Pringle
Jer Collins the Great
JK's cryptochild
Joe Kinder
Les Warnock
Lucas Photo
Maury "Zipper-boy" Birdwell
Misty Murphy
Rocktown/Aaron Gibson
s00kreem? huh?
Sonnie Trotter
Stefka
Western CO Climbing Beta